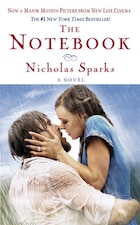 Since Valentine's Day is tomorrow I thought I'd talk about The Notebook by Nicholas Sparks
.
I actually saw the movie first and I really liked it. Then about a year later I found the book in my house. It seemed short so I decided to read it. It's a mushy romantic story (which I'm not normally in to). But I liked it because of the sad (yet sweet) parts with the elderly couple (in the book this part is even sadder). I don't know if I liked the movie or the book more. I'll have to watch the movie again, maybe tomorrow with my boyfriend because I'm sure he'd be thrilled with that.
Anyways, it's a nice, quick read. Even if your not into romance you should check it out, I found it to be a nice change. It's not like Harlequin, it's really clean.
From the Editors
Noah Calhoun is haunted by images of the love he left behind when he went to war. But now the war is over and he is back in coastal North Carolina. Unfortunately, his lost love is about to marry someone else. Socialite Allie Nelson is about to marry, but she can't stop thinking of the boy who stole her heart so long ago. This story of love shows that we can turn tragedy into triumph and that miracles really can happen. The Notebook is based on the story of Nicholas Sparks' wife's grandparents. - - - from
chapters.indigo.ca
Happy Valentine's Day!
Blog Bookmark Gadgets